London, 27 October 2023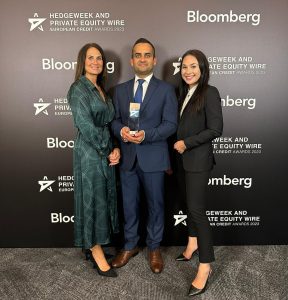 We are very proud to announce that GLAS has been recognised by Hedgeweek & Private Equity Wire as the 'Best Debt/Loan Administrator' firm at the 2023 European Credit Awards ceremony.
The Hedgeweek & Private Equity Wire European Credit Awards recognise excellence in fund performance and service provider excellence across credit funds over the past year. Winners were announced at a dinner on 26 October in London.
Mia Drennan, Co-Chair and Group President, said
We are absolutely thrilled that GLAS has won 'Best Loan Administrator' at the Hedgeweek and Private Equity Wire European Credit Awards. This is recognition for the work that is at the heart of our business and testament to our amazing teams who are dedicated to serving our clients.
About GLAS
GLAS was established in 2011 and is the premier independent, non-creditor, conflict-free provider of loan administration and indenture trustee services.
GLAS is a global Company and is located in the UK, Europe, the USA and APAC. GLAS services in excess of USD320bn of assets under administration on a daily basis. For more information, please contact media@glas.agency.
Links
Hedgeweek & Private Equity Wire European Credit Awards