LONDON, UK (22 October 2023)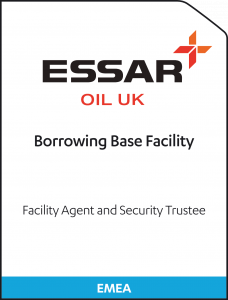 We are delighted to announce that GLAS has successfully completed a $150 million Receivables Purchase Transaction for Essar Oil (UK) Limited as Facility Agent and Security Trustee.
This transaction demonstrates GLAS's experience in Receivables Purchase Facilities, as well as our commitment to a responsive and flexible service. We'd like to congratulate all deal parties on a successful closing.
Why GLAS?
GLAS was chosen due to its proven expertise working on complex asset backed receivables which is supported by "best in class" technology which makes deal execution easy.
Essar Oil (UK)
Essar Oil UK is a leading UK-focused downstream energy company whose main asset is the Stanlow Manufacturing Complex, one of the most advanced refineries in Europe and situated close to the major cities of Liverpool and Manchester.
Links
About GLAS
GLAS was established in 2011 as an independent provider of institutional debt administration services. The company was originally created to provide the market a willing participant in complex loan restructuring transactions where many large institutions are reluctant to take swift and cooperative action. It offers a wide range of administration services developed specifically for the debt market.
GLAS is recognised as the premier independent, non-creditor, conflict-free provider of loan agency and bond trustee services, with excess of USD320bn of assets under administration on a daily basis. For more information, please contact media@glas.agency.