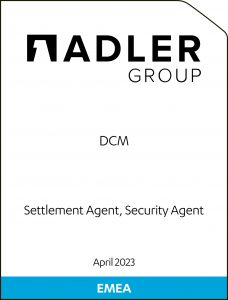 German real estate company Adler Group S.A. and its subsidiaries successfully implemented a restructuring through a UK Part 26A Restructuring Plan. The Plan included amendments to the terms and conditions of certain of its bonds with an aggregate nominal amount of €3.2 billion and the provision of up to €937.5 million of new money funding.
GLAS Specialist Services Limited worked closely as Information Agent with Adler Group S.A and deal parties on the plan.
To learn more about how GLAS can be of service on your restructuring transaction, click here or contact a member of our global team.
About GLAS
GLAS was established in 2011 as an independent provider of institutional debt administration services. The company was originally created to provide the market a willing participant in complex loan restructuring transactions where many large institutions are reluctant to take swift and cooperative action. It offers a wide range of administration services developed specifically for the debt market.
GLAS is recognised as the premier independent, non-creditor, conflict-free provider of loan agency and bond trustee services, with excess of USD300bn of assets under administration on a daily basis. For more information, please contact media@glas.agency.