By Dr. Stefan Luthringshauser and Andreas Schraeder
GLAS's arrival in Germany in December 2020 coincided with a rebound in the German economy and financing market, particularly in the middle market M&A arena, leading to robust deal activity. In its first year, our German office closed 70 transactions across a wide variety of transaction types and sizes and in a wide swathe of industries, including: Renewable Energy, Pharmaceuticals, Media & Technology, IT, Utilities, Communications, Consumer Goods and Logistics.
What started as a small team of two has now tripled in size and boasts transaction managers with experience spanning the full range of loan agency and trustee services, including banking, syndicated loans and other large-scale capital markets transactions. As we celebrate our office's one year anniversary, we look back at the trends that drove our growth in 2021 and how we expect those themes to continue in 2022 (which has already gotten off to an equally strong start).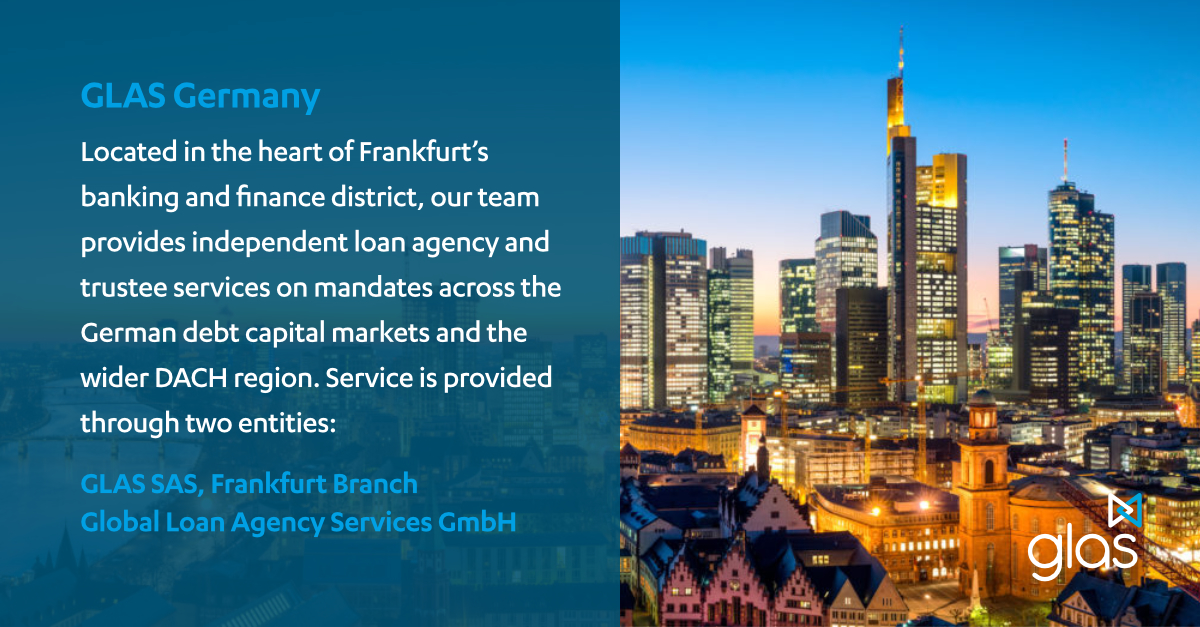 Mittelstand proves fertile ground for M&A activity
Germany's Mittelstand has long been the envy of investment bankers, lawyers and dealmakers both in Europe and across the globe. In recent years it has provided fertile ground for private equity M&A activity, with the number of deals increasing at a rapid clip since Great Financial Crisis. Despite the uncertainty of the pandemic, private equity firms have deployed more than $100 billion (€90 billion) on 1,400 deals involving German companies since the start of 2019, according to Bloomberg data.
Dr. Stefan Luthringshauser, Managing Director says: These macro level trends track closely with our work in the German office. Of the more than 70 transactions the GLAS German office helped close in 2021, nearly all were debt financings of private equity transactions. On these mandates, our team typically serves as the Facility Agent and/or Security Agent, helping to service the debt facilities our clients raise to execute their transactions. We anticipate the German M&A to continue apace in 2022, which we have already started to see this year.
Infrastructure financing sees continued growth in Germany
Andreas Schräder, Director says: While private equity M&A financing fueled our deal volumes in 2021, last year also provided the team with opportunities to work on significant project finance transactions supporting critical infrastructure projects in Germany. These typically high-volume deals can be extremely complex in nature due to their financial structure and set up and consisted most recently of projects in Power and Energy Infrastructure, Road and Motorway Infrastructure and Waste Management Infrastructure. These financings require an experienced and dedicated agent to ensure a smooth deal closing.
With more than €270 billion to spend on the transportation sector alone over the next ten to 15 years because of the Federal Transport Infrastructure Plan, we anticipate more of these mandates as investors and companies look to capitalize on the deployment of this pool of capital. GLAS in Germany sees the trend for Project Finance in Infrastructure Sectors to continue to develop at a high pace, which overall boosts German economic growth with high demands in industrial and manufacturing.
Multidimensional work generates momentum
True to GLAS form, the German office is not one dimensional in our approach to debt administration. Over the last year, GLAS has played a wide variety of roles on all manner of transactions, ranging from the plain vanilla EUR €5 million unitranche to complex bond and/or debt issuances in excess of €1 billion, with more than 50 lenders/noteholders on a single transaction.
Facility Agent
Security Agent
Bond/Note Trustee
Registrar
Escrow Agent
Restructuring Agent
Calculation Agent
Across all of work in 2021, nothing has been more important to our growth than our licensing. Both GLAS German entities—GLAS SAS, Frankfurt Branch is a regulated entity and holds a Payment Service License/ PSD2. In addition, the German GLAS entity Global Loan Agency Services GmbH holds a Collection License which is a legal requirement under German law, when servicing debt for German Borrowers. GLAS Germany will issue a detailed article shortly with further insights and explanations.
Our team is growing, and we're equipped to handle all types of transaction mandates. If you're interested in learning more about our team and offerings, please reach out to Stefan or Andreas.